Statewide Food System Assessments
Ken Meter has performed statewide (or provincial) food system assessments in Arkansas, California, Hawai'i, Indiana, Manitoba, Minnesota, Nebraska, New Mexico, Ohio, Virginia, & West Virginia. Three of these are in-depth, and linked below. The others can be linked by clicking on the box at the right.

Hoosier Farmer? Emerging Food Systems in Indiana (2012)


Ohio's Food Systems: Farms at the Heart of it All (2011)


Mapping the Minnesota Food Industry (2009)
Emerging Greenhouse Technology in the Netherlands (2012)
The Koppert Cress greenhouse near Rotterdam, in the Netherlands, aspires to be the "world's most sustainable greenhouse." Here, micro-greens are grown under LED and natural light, then shipped to gourmet restaurants globally. This first-hand report offers a glimpse of pioneering innovations at all stages of production. The firm also operates a similar greenhouse on Long Island in New York. Download report below:

Download Greenhouse report with pictures (large file – 98mb)

Download Greenhouse report without pictures (text-only – 131k)
The Food Bank of North Alabama published a beautiful four-color brochure showing the results of Ken Meter's study of their region's farm and food economy in early 2012. The findings were unveiled for the first time at a public meeting sponsored by the Commissioner of Agriculture, John McMillan, in his offices in Montgomery. Read about the food bank's vision for economic development in the Huntsville region. Posted with the permission of the Food Bank of North Alabama.
The Delta Fresh Foods Initiative commissioned the Mississippi Delta Farm & Food Economy study from Ken Meter in early 2012. They used these findings to produce a colorful brochure, outlining their case for addressing what they call a "double crisis of food and health" by building a strong and resilient food system in the Delta. "The key to economic recovery in the Mississippi Delta will be to bring the economy back home," DFFI says, and their document shows just how they will do that. Posted with the permission of the Delta Fresh Food Initiative.
Looking for inspiration? Here is a concise overview of some of the reasons the community-based food movement must flourish, with selected examples of groundbreaking local foods initiatives across the U.S.
Urban Agriculture holds great potential. Did you know that forty-one percent of all farm commodities are sold from farms in metropolitan counties? And that 55% of the money made from producing farm commodities was made in metro regions?
What if the 2012 U.S. Census of Agriculture helped communities measure their own health, wealth, connection and capacity, not just farms and commodities? Read these recommendations by Ken Meter of Crossroads Resource Center.
Local and state governments now spend $50 billion per year giving incentives to businesses, and often don't get much in return. Building community-based food systems is a better way to refashion the U.S. economy.
Food has become a leading cause of death, rivaling tobacco. Colorado spends $874 million per year to pay for the medical costs of obesity. The Metro Denver Health and Wellness Commission asked Angie Tagtow and Ken Meter to show the potential local foods systems have to reduce public costs for food-related health conditions. Data like this might help your local officials support the local foods cause.
How does a low-income neighborhood create a regional destination? First, by understanding its local economy, and then by acting together to strengthen existing capacities. See Ken Meter's White Paper, written for the American Planning Association (APA) (1998).
Hoosier Farmer? Emerging Food Systems in Indiana
Food business clusters have been emerging in Indiana since the mid-1970s. They are now taking root in farm commodity producing regions. Young members of the Indiana Farm Bureau are positioning themselves for a future of farming that may be very different than the past, knowing that if each Hoosier spent less than $5 per week buying food directly from Indiana farms, this would generate $1.5 billion of new farm income for state farmers—a 20% increase in farm revenue.

Hoosier Farmer? Emerging Food Systems in Indiana (2012)
Commissioned by the Indiana State Department of Health
Clusters of local foods businesses are forming across Ohio, as residents innovate ways to provide healthier food options, and bring farmers into more direct contact with consumers. These business clusters focus their attention on building strong relationships of trust, overcoming a long history of export agriculture. Written by Ken Meter of Crossroads Resource Center for the University of Toledo Urban Affairs Center, with funds from the Ohio Department of Agriculture.


Ohio's Food Systems — Farms at the Heart of It All (2011)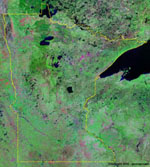 A study of Minnesota's food economy shows relationships are the key to creating the food industry of the future. Read close interviews with food business leaders, and learn a wealth of facts and figures.

Mapping the Minnesota Food Industry (2009)
Emerging in thousands of communities all over the U.S., the community-based foods movement seeks to find "Food With the Farmer's Face On It." The W. K. Kellogg Foundation asked Ken Meter to produce a media guide introducing readers to this vital movement.
Local foods leaders of 95 regions in 32 states and one Canadian province have asked Ken Meter to study their local farm and food economy. His analysis has played a critical role in animating local foods activity across the continent.
Launching all of this activity was Ken Meter's original "Finding Food in Farm Country" study of Southeast Minnesota, commissioned by Community Design Center and the Experiment in Rural Cooperation. This has been used as a reference in at least 12 university programs.
The City of Minneapolis won national recognition for its sustainability initiative. Central to that effort was a fifty-year vision for the city's future, and specific measures of sustainability, devised by city residents. The public process for defining these indicators was coordinated by Ken Meter of Crossroads Resource Center. This is a fundamental document to read if you want to measure sustainability.
Our position paper shows that building strong neighborhood commercial districts involves building wealth for local residents.