Statewide Food System Assessments
Ken Meter, often with Associate Megan Phillips Goldenberg, has performed statewide (or provincial) food system assessments in fourteen states and provinces: Alaska, Arkansas, California, Hawai'i, Indiana, Manitoba, Minnesota, Mississippi, Nebraska, New Mexico, Ohio, South Carolina, Virginia, & West Virginia. Seven of these are in-depth, and linked below. The others can be accessed by clicking on the box at the right.

Hawaiʻi's Food System: Food for All (2017)


Alaska: Building Food Security in Alaska (2014)


An Overview of Mississippi's Farm & Food Economy (2014)


South Carolina: Making Small Farms Big Business (2013)


Hoosier Farmer? Emergent Food Systems in Indiana (2012)


Ohio's Food Systems: Farms at the Heart of it All (2011)


Mapping the Minnesota Food Industry (2009)
USDA/AMS Toolkit: How to Measure Economic Impacts of Local Foods Work
The long-awaited Economic Impacts Toolkit has been released. Ken Meter and Megan Phillips Goldenberg of Crossroads Resource Center are co-authors.

The Economics of Local Food Systems: A Toolkit to Guide Community Discussions, Assessments and Choices
How do we uphold the integrity of local food?
As more consumers demand local food, some vendors have expanded their concept of "local" in questionable ways. How do we know what is the Real Deal?
Our research for the Pennsylvania Association for Sustainable Agriculture (PASA) found that the foremost quality of local food is that it creates community connections. To learn more, see:

The Real Deal: How Do We Define "Local" in a Meaningful and Measurable Way?
Economic Impact Reports!
Economic impact analyses often are not as useful as they might be because the data used in calculating impacts is not as precise as users think it is. Furthermore, impact analysis software such as IMPLAN is often used inappropriately, since it is not fully sensitive to the business sectors that drive local foods work. Ken Meter and CRC Associate Megan Phillips Goldenberg have produced a critical analysis of these methodologies, and suggest new directions for measuring economic impacts. This is part of a larger report published by the Illinois Public Health Institute with funding from the Centers for Disease Control and Prevention.
Interviews with local food leaders in five selected regions across the U.S. showed how farm-to-school and other institutional food purchasing can help create, and help lead to, positive economic and health impacts. Drawing upon case examples from Vermont, Louisville, Southwest Wisconsin, Tucson, and San Diego, this new report highlights the ways in which economic and health impacts may be measured. Meter and Goldenberg were part of the team that produced this study, published by the Illinois Public Health Institute with funding from the Centers for Disease Control and Prevention.
Food Hub Resources from the Midwest:
What is needed for a food hub to thrive?
Shane Tiernan, a banker in Grundy, Iowa, spells out what details need to be pinned down if a food aggregation facility is to cover its operating costs. His report,

Can a Diversified Locally Grown Food Aggregation (Hub) Facility be Economically Sustainable in Iowa?, raises most all of the difficult issues that emerge when one plans a food hub. This is an important report to read!
The long road to a cluster of food businesses:
The Twin Cities cooperative grocery sector is now $180 million strong—and it took 40 years to get there. Read this report—

The Twin Cities Cooperative Local Food System—by Cooperative Development Services as an antidote to "quick fix" solutions that imagine a food hub can be built overnight. You can also learn what propelled a cluster of food businesses forward in one region. These lessons transfer to other regions as well.
Many local foods efforts find, when they try to start food hubs, that there is not nearly enough supply of locally grown produce to pay for the operation of an entire warehouse. This poses a dilemma for local foods leaders: do you build an aggregation center and hope that farmers will surface to fill it, or do you work to expand farm production when there is no central place to take the product? Harder still, supply and demand must be in balance at each step of the way, or the situation will be unstable. How do you move forward?

Read more
Emerging Greenhouse Technology in the Netherlands (2012)
The Koppert Cress greenhouse near Rotterdam, in the Netherlands, aspires to be the "world's most sustainable greenhouse." Here, micro-greens are grown under LED and natural light, then shipped to gourmet restaurants globally. This first-hand report offers a glimpse of pioneering innovations at all stages of production. The firm also operates a similar greenhouse on Long Island in New York. Download report below:

Download Greenhouse report with pictures (large file – 98mb)

Download Greenhouse report without pictures (text-only – 131k)
The Food Bank of North Alabama published a beautiful four-color brochure showing the results of Ken Meter's study of their region's farm and food economy in early 2012. The findings were unveiled for the first time at a public meeting sponsored by the Commissioner of Agriculture, John McMillan, in his offices in Montgomery. Read about the food bank's vision for economic development in the Huntsville region. Posted with the permission of the Food Bank of North Alabama.
The Delta Fresh Foods Initiative commissioned the Mississippi Delta Farm & Food Economy study from Ken Meter in early 2012. They used these findings to produce a colorful brochure, outlining their case for addressing what they call a "double crisis of food and health" by building a strong and resilient food system in the Delta. "The key to economic recovery in the Mississippi Delta will be to bring the economy back home," DFFI says, and their document shows just how they will do that. Posted with the permission of the Delta Fresh Food Initiative.
Looking for inspiration? Here is a concise overview of some of the reasons the community-based food movement must flourish, with selected examples of groundbreaking local foods initiatives across the U.S.
Urban Agriculture holds great potential. Did you know that forty-one percent of all farm commodities are sold from farms in metropolitan counties? And that 55% of the money made from producing farm commodities was made in metro regions?
What if the 2012 U.S. Census of Agriculture helped communities measure their own health, wealth, connection and capacity, not just farms and commodities? Read these recommendations by Ken Meter of Crossroads Resource Center.
Local and state governments now spend $50 billion per year giving incentives to businesses, and often don't get much in return. Building community-based food systems is a better way to refashion the U.S. economy.
Food has become a leading cause of death, rivaling tobacco. Colorado spends $874 million per year to pay for the medical costs of obesity. The Metro Denver Health and Wellness Commission asked Angie Tagtow and Ken Meter to show the potential local foods systems have to reduce public costs for food-related health conditions. Data like this might help your local officials support the local foods cause.
How does a low-income neighborhood create a regional destination? First, by understanding its local economy, and then by acting together to strengthen existing capacities. See Ken Meter's White Paper, written for the American Planning Association (APA) (1998).
New Updates! Strategic Recommendations for Regional Farm and Food Economies:
Northeast Indiana (2016)
Economic Developers in the Fort Wayne region asked our team to write an action plan for building local food networks in their region. Our plan will be featured at the International Economic Development Council annual meeting in Toronto in September, 2017. Produced in partnership with Manheim Solutions, Inc., and Northeast Indiana Regional Partnership.

Northeast Indiana Local Food Network — Phase 1 Report
Lakes Region (Maine, 2016)
This strategic plan for building local food networks in an area rich with forests and lakes, and a deep heritage of agriculture, found that New England-wide initiatives were less significant than concerted local activity. In particular, we recommended that a local coordinator be hired to ensure that food from local farms was featured in more than 200 community meals that are held each year. In partnership with Cumberland County.

Strategic Recommendations
ArkLaTex Region (Arkansas, Louisiana, Texas, 2016)
Produced in partnership with Slow Food North Louisiana and We Grow Together!

Strategic Recommendations
Hancock County, Indiana (2015)
In partnership with Hoosier Harvest Market and the Indiana State Department of Health.

Opportunities for Farm-to-School in Hancock County, Indiana
Adams County, Colorado (2016)
In partnership with Logan Simpson Design Firm, Two Forks Collective, City of Brighton & County of Adams. Market Study for Adams County — Special Ag District.

District Plan
Spokane Region, Washington (2014)
In partnership with Spokane Region Food Council.

Investing In Relationships: How Spokane can best support its emerging local foods industry
Arkansas Farm & Food Economy (2015)
In partnership with Heifer Project International. (Still to be released)
Southwest North Dakota and the Center of North America Coalition (CONAC) Regions of North Dakota (2015)
Three reports produced in partnership with FARRMS in Medina, ND:

Next Steps for Two REAP Zones in North Dakota (2015)

CONAC Region (North Dakota) Local Farm & Food Economy (2015)

Southwest REAP Region (North Dakota) Local Farm & Food Economy (2015)
Rappahannock-Rapidan Region (Virginia, 2015)
In partnership with Rapidan-Rappahannock Regional Commission.

Rappahannock-Rapidan Farm & Food Plan
Lewiston + Auburn Region (Maine, 2015)
In partnership with Karp Resources and Grow L+A.

Lewiston-Auburn Regional Food Hub Feasibility Study
Now Underway:
Coeur d'Alene Reservation (2016)
In partnership with Benewah Medical Center.
Kalamazoo Valley Region (Michigan, 2016)
In partnership with New Growth Associates and Kalamazoo Valley Community College.
Like most other states, Alaska imports about 95% of the food it purchases. Yet this state is more distant from prevailing food production regions than other states. Alaskans feel a special sense of vulnerability. Despite a rich history in dairy and cattle production, most of these foods are now imported. Much of the arable farmland has been paved over by development. Moreover, Alaskans who wish to purchase some of the $3 billion of seafood harvested from its ocean waters typically have no choice but to buy through Seattle vendors.
Still, farms produce a rich variety of crops and livestock. Direct sales from farmers to household consumers run at 13 times the national average, amounting to one of every six dollars farmers earn selling food to humans. Lettuce, peppers, and cucumbers are available year-round from indoor farms. Chickens are grown inside greenhouses that rely upon surplus heat from nearby buildings.
In no other state is harvesting wild foods as important. Subsistence and personal use hunters bring in an estimated $900 million worth of salmon, caribou, moose, foraged greens and berries, and other foods. Yet even here, hunters and gatherers face special challenges: a decline of hunting skills, weakening ice, changing migrations, and radioactive fallout.
Our study, written by Ken Meter and Megan Phillips Goldenberg, offers practical steps for building a more reliable food supply by growing, storing, and marketing more Alaska-grown food to Alaskans. Commissioned by the Alaska Department of Health and Social Services.
Early in 2013, the State of South Carolina commissioned Crossroads Resource Center to produce an investment plan for local foods. Five short months later, after interviewing more than 150 food system leaders, Ken Meter and Megan Phillips Goldenberg put forward a $9.5 million plan. It calls for a statewide marketing campaign — "Eat Five, Buy Five" — asking consumers to eat five fruits and vegetables each day for health, and to buy $5 of foods direct from farmers each week. If every consumer in the state bought $5 per week, South Carolina farmers would earn $1.2 billion of new revenue, rivaling sales in the state;s produce industry. The plan also calls for the creation of a competitive grants program to support clusters of farms that supply local markets: "Food Production Nodes" that help build a web of support around food hubs. It also calls for ongoing farmer training, with greater statewide coordination.

Read more.
"One of the best documents that has been produced in the state to promote rural prosperity in decades."
— Dana Beach, head of the Charleston-based Coastal Conservation League, and founder of GrowFood Carolina
"This is the most massive project ever undertaken to develop a local food supply in South Carolina. Implementation of the results of the study can increase significantly the income of rural counties in our state."
— Jack Shuler, president of the Palmetto Agribusiness Council
Commissioned by the State of South Carolina (Departments of Agriculture and Commerce), South Carolina Farm Bureau, Palmetto Agribusiness Council, Bank of South Carolina, Carolina Farm Stewardship Association, Coastal Conservation League, and Clemson University Extension.
Food business clusters have been emerging in Indiana since the mid-1970s. They are now taking root in farm commodity producing regions. Young members of the Indiana Farm Bureau are positioning themselves for a future of farming that may be very different than the past, knowing that if each Hoosier spent less than $5 per week buying food directly from Indiana farms, this would generate $1.5 billion of new farm income for state farmers—a 20% increase in farm revenue.
Clusters of local foods businesses are forming across Ohio, as residents innovate ways to provide healthier food options, and bring farmers into more direct contact with consumers. These business clusters focus their attention on building strong relationships of trust, overcoming a long history of export agriculture. Written by Ken Meter of Crossroads Resource Center for the University of Toledo Urban Affairs Center, with funds from the Ohio Department of Agriculture.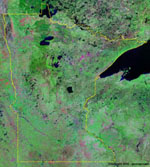 A study of Minnesota's food economy shows relationships are the key to creating the food industry of the future. Read close interviews with food business leaders, and learn a wealth of facts and figures.
Emerging in thousands of communities all over the U.S., the community-based foods movement seeks to find "Food With the Farmer's Face On It." The W. K. Kellogg Foundation asked Ken Meter to produce a media guide introducing readers to this vital movement.
Local foods leaders of 95 regions in 32 states and one Canadian province have asked Ken Meter to study their local farm and food economy. His analysis has played a critical role in animating local foods activity across the continent.
Launching all of this activity was Ken Meter's original "Finding Food in Farm Country" study of Southeast Minnesota, commissioned by Community Design Center and the Experiment in Rural Cooperation. This has been used as a reference in at least 12 university programs.
The City of Minneapolis won national recognition for its sustainability initiative. Central to that effort was a fifty-year vision for the city's future, and specific measures of sustainability, devised by city residents. The public process for defining these indicators was coordinated by Ken Meter of Crossroads Resource Center. This is a fundamental document to read if you want to measure sustainability.
Our position paper shows that building strong neighborhood commercial districts involves building wealth for local residents.